Calhoun Erosion Control Services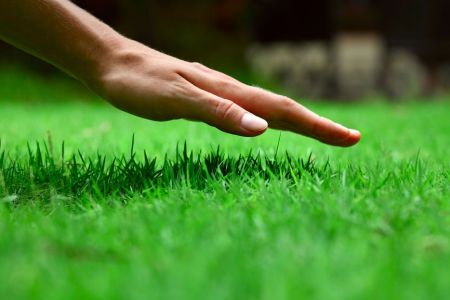 If your landscape has any steep slopes, it's very important to treat them well because there is always a potential for erosion. Rain can easily dislodge soil particles, and when that soil is sloped, it can run down and collect even more soil on its way. The soil will form silt at the bottom of the slope, which can be a huge problem for driveways and swimming pools, and it may even clog the neighborhood drainage structures or storm drains.
Erosion is a huge problem for many homeowners in Calhoun, especially those in hillside divisions where slopes are especially common. Every slope demands a different technique for erosion control, and the professional landscaping contractors at Landscape Creations, Inc. will be able to find the most effective methods for your landscape.
Erosion-Controlling Plants
Calhoun landscaping company is one of the best and most natural ways to protect your soil is with the use of plants. Many plants can add an aesthetic appeal to your Calhoun home's landscape design while also preventing erosion from occurring. Some plants diffuse the energy of raindrops so that they hit the soil more gently, and others have roots that help to bind the soil underground.
Our professional landscaping contractors know how to use various plants for different methods of irrigation and erosion control, and we can make sure they're properly established on your slope.
Some of these plants include:
Hydroseed - Hydroseeding is a method of sowing seed on for large and quick coverage. The quick-cover method reduces sediment runoff during the first rainy season after the completion of a project.
Creeping Shrubs - A creeping shrub has only one stem which spreads out in every direction with carpeted foliage. The foliage cover slows falling rain to help prevent erosion from occurring.
Groundcover Plants - English ivy is one example of a groundcover plant that bind tightly to surface and cover it with dense foliage. These plants need to irrigated with broadcast sprinklers.
Our landscapers will work with you to determine the best possible plants to help control erosion for your Calhoun home's landscape, and we can handle the entire job.
Our Process
When you hire us for an erosion control job at your Calhoun home, we'll always follow these steps to ensure a job well done:
We'll inspect the property with you and let you show us each part of your landscape that has a problem.
We'll listen to your concerns and inspect your landscape to gain a full understanding of your needs.
We'll provide you with a detailed description of the components of the plan.
We provide diagrams and pictures to illustrate our ideas, and we'll discuss the plan with you in plain English.
Then, we complete the job with high quality workmanship, guaranteeing your complete satisfaction with all of the work we provide.