Calhoun Sod Installation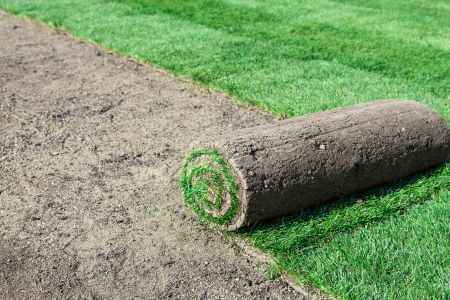 Installing a new lawn or renovating an old one can be a difficult task, but it's one that's definitely going to hugely improve your Calhoun property and its landscape. Our professional landscaping contractors can guarantee that your new lawn will be beautiful, and we'll get the job done promptly and professionally.
When you don't have the time to seed, water, and wait for a new lawn to grow, a sod installation is the best way to get your lawn into great shape. Our professional Calhoun landscaping company will get rid of your existing turn, repair and renovate the substrate, then lay new sod. Before we begin the work, we'll carefully plan the project to ensure that you'll have the best lawn possible in the shortest amount of time.
Some Reasons You May Want to Consider a Sod Installation Include:
You've put your house up for sale. If your front lawn is decreasing your resale value, or if it's making your Middle Tennessee home more difficult to sell, our lawn installations can help.
Your lawn's appearance is reducing the amount of enjoyment you're able to get out of your home.
Your lawn is bringing your curb appeal down.
Having a great lawn is a major priority for most homeowners, and the professionals at Landscape Creations, Inc. understand that. That's why we'll always do whatever it takes to provide you with high quality work and craftsmanship at every sod installation job we perform. Call us today, and we'll be looking forward to starting this project with you.
Sod vs. Seeding
Planting new sod is ultimately more beneficial than growing grass from seed. Hydroseeding and grass seeds take much more time to establish a gull lawn. Having a sod installation will help further the erosion of top soil and will prevent a number of other water-related problems.
If you need a lawn right away, sod is the best way to get it. Sod can provide you with an "instant lawn" and let you go from dirt to grass in a day. The roots establish much more quickly than seed, but they may not establish as well.
Sod is a great alternative for sloped areas or erosion-prone areas where seed would struggle to survive.
Sod is more expensive than seed, but that's because you're paying for the work of growing the grass. If your main concern is your budget, seed is your better option, but it will require more work and much more time.
The landscaping professionals at Landscape Creations, Inc. can help you decide which method of lawn installation is best for your Calhoun home, and we can handle the entire job. We'll make sure that, no matter which method you choose, your new lawn is perfectly installed.