Why You Need Pros For Your Commercial Landscaping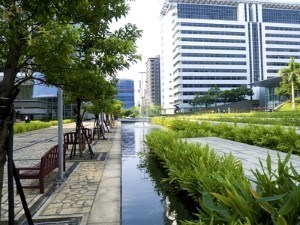 When it comes to keeping your Calhoun commercial landscaping looking its best, you probably already realize the importance of taking care of tasks like seasonal clean up and debris removal. The problem is that too many business owners try to take care of this task on their own or end up losing sight of just how important it is. There are plenty of reasons this is not a DIY job and why it makes sense to let trained, skilled and experienced experts get the job done for you. So before try to spread yourself thin by tackling this task on your own, or delegate it to staff members who are not qualified to do so, find out more about why you need pros.
Benefits of Professional Clean Up
For starters, you should make sure that you actually bother to take care of your seasonal clean up and debris removal instead of neglecting to have it done. For one thing, leaving matter like leaves, twigs or grass clippings to linger can actually begin to suffocate your healthy grass and plant life. While this may be organic matter, too much of it lingering acts more like a blanket preventing water and sunlight to get to the healthy growth you want to encourage underneath. This can also trap moisture and lead to mold or other fungus which can destroy your otherwise healthy plant life.
Also, these are ideal conditions for pests like insects and rodents to nest and become a nuisance; this is the last thing that you need for your lawn. One reason it is a good idea to schedule this type of service with your local professional expert is to make sure it gets scheduled and that it gets carried out correctly. Even well meaning business owners can end up raking up debris but then neglecting to carry it away. Make sure that you keep your yard looking good, your grass healthy and don't end up procrastinating to get this done by letting a team of experts take care of this for you.
The Team to Trust
By working with our pros here at Landscape Creations, Inc., you can get the best in quality workmanship for all of the services we offer, including commercial landscaping for your Calhoun business. Don't take chances when it comes to the level of quality service you get for your yard and landscaping, this is a big part of what makes the first impression on potential customers. We care as much about helping you keep your exterior looking its best as you do. So give us a call today in order to get started.