Four Ways Our Landscape Design Services Can Benefit Your Home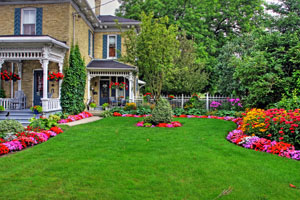 Creating a great-looking lawn and landscape is an important part of keeping your home looking great and making sure that it stands out in your neighborhood. Your flowers, trees, and hardscaping elements should all look great all year long, but a luxury landscape design can actually have practical uses for your home as well as making it look beautiful.
If you're interested in a new landscape design for your home, the professional Calhoun landscapers at Landscape Creations, Inc. can provide you with a custom landscape design and a high quality installation. We'll do whatever it takes to make sure that your landscape is a beautiful and functional part of your home, and we'll make sure that you're completely satisfied with the work that we provide. Here are a few of the great benefits that a landscape design can offer to your home:
Increase Your Home's Resale Value
A great landscape design with transform your property into a sprawling, majestic collection of trees, shrubs, and flowers, all perfectly places throughout the lawn to create beautiful scene. Your new landscape will make your entire Calhoun home more attractive, which is one of the most sure-fire ways to make it memorable to potential buyers. A great landscape is a great selling point, and it will also increase the resale value of your home.
Cut Down On Monthly Costs
Strategically planted trees and shrubs can actually offer financial incentives, too. Studies have shown that trees and other plant life can provide plenty of shade for outdoor air conditioning units, therefore reducing the amount of energy needed for them to keep your home cool. We can also help you select plants that will help you conserve the amount of water that you use in your Calhoun home's landscape.
Give Your Home More Privacy
One of the most overlooked benefits of a great landscape design is the increased privacy that it can give your home. Secluded under the protection of some trees or other large landscape plants, you'll have natural sound barriers from your neighbors, traffic, and anything else near your home. Our landscape designs can help you enhance the appearance of your landscape and your home while also providing you with extra privacy.
Totally Customizable Designs
Our professional Calhoun landscapers will work with you to design a landscape that is perfect for you, your home, and your family. We'll make sure that you get all of the features you're looking for, and we'll do whatever it takes to make sure that you're totally satisfied with the final results.