Is a Drip Irrigation System Right for Your Landscape?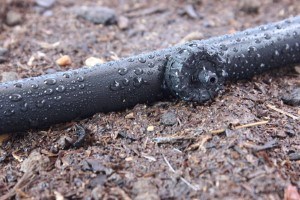 Drip irrigation is the best way to get water directly to your plants' roots, but many homeowners are wary of whether or not they're a good choice for their landscapes. Drip irrigation systems can be great for many landscapes, but like anything else, they have pros and cons, and whether or not they're right for your home depends on the specific characteristics of your landscape.
Irrigation is an extremely important part of any landscape, and making sure that your plants, trees, and grass get the water that they need is crucial to your landscape's health. At Landscape Creations, Inc., our Calhoun landscapers can help you decide on the perfect irrigation systems for your landscape, and we can provide you with a high quality installation, as well as any maintenance or repairs that you may need for the system.
If you're considering whether or not a drip irrigation system would be a good choice for you home's landscape, take a look at these advantages and disadvantages:
Advantages of Drip Irrigation Systems
Water Conservation
The most important advantage of a drip irrigation is that it conserves water. It waters plants efficiently thanks to the very controlled delivery of water. Drip irrigation systems consist of tubing through which water travels from its to to drip emitters (which may also be called micro-sprinklers). Drip irrigation tubing is snaked through landscape beds and ground-cover areas, and water literally drips from the emitters right to plants' root zones.
Easy Installation
There won't be any excavation necessary to install your drip irrigation system, and any disruption to your landscape will be minimal.
No Drift
"Drift" is what happens when wind carries water that is dispersed from irrigation system to areas that don't need water, like sidewalks, walkways, or driveways. Over time, drift can waste a significant amount of water, but it doesn't occur at all with drip irrigation systems, which can deliver 1-4 gallons of water per hour directly to your plants.
Disadvantages of Drip Irrigation
While there are great advantages to drip irrigation systems, it's important to note that these systems so require more more maintenance than other irrigation systems. The system will need to be flushed out regularly, and you will need to monitor the system to ensure that it's working properly.
Our Calhoun landscaping professionals can help you keep your irrigation system in great shape at all times, and drip irrigation systems will go along way toward helping you keep your home as environmentally friendly as possible.