Using Hardscaping and Stonework to Enhance Your Blue Ridge Landscaping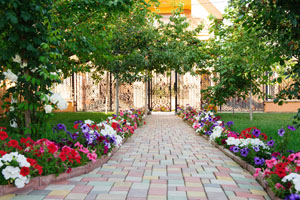 One of the best things about deciding to improve the landscaping for your Blue Ridge home or business is that you have so many options available. For many landscape designs the smartest way to improve the look is through the use of hardscaping and stone work. Before making these types of choices you should know a little bit about the choices you have.
Examples of Stonework & Hardscaping
If you have not yet looked into the types of stonework or hardscaping options that are out there, then you should know about some of the basics.
Retaining Walls - Retaining walls can be functional as well as attractive. If you need to rid your lawn of an unwanted slope on your property then this is the ideal way to do so. The good news is that a well built wall can look as good as it works. It is about using creativity in order to create a wall that also serves a purpose.
Patios - While most people think of patios as simply a place to enjoy the outdoors and create family memories, it should also tie in cohesively to your overall landscaping plan. This is why it is important to work with a seasoned professional who thinks about the big picture and not just smaller, individual projects. Your patio space should blend in nicely with the landscape design instead of sticking out like a sore thumb.
Water Elements - Fountains, water falls trickling down a wall or whatever you have in mind can be added to tie in the use of water on to your property. Nothing sounds quite as lovely and calming as trickling water but it also looks stunning too. Work with your landscaping team to incorporate an element of water into the layout with a water feature.
Trust the Experts
It can seem overwhelming to try to make sense of it all which is just one of many reasons you need to work with landscaping pros to get the job done. At Landscape Creations, Inc. we will review with you all of the options you have, including hardscaping and stonework. For over a decade now, we have been taking care of creating the look our clients desire for both their residential and commercial spaces.
Contact us today and let's get started on your landscape project. We can assure you that you will love the final look we put together for your Blue Ridge lawn. When it comes to your landscaping projects, you should never settle for less than the best.
If you're looking for an experienced stonework or hardscaping company in Blue Ridge, call Landscape Creations, Inc. at 706-280-3130, or complete our online request form.