Stonework Ideas For Exceptional Patios In Calhoun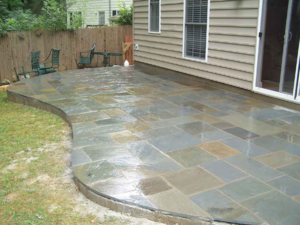 If you want to have an exceptional patio constructed for you in Calhoun, it's worth considering some custom stonework. This type of hardscaping looks amazing for decades. It's a good investment that lasts. If it's time to make some improvements by hardscaping certain areas of your property, think about stonework for the patio. Stonemasons like ours at Landscape Creations, Inc. have a lot to offer. What's great about real stone is how beautiful it looks. And you can continue the stonework of the patio outward toward other areas of the landscape. Natural stone makes great sidewalk material and retaining walls too. And with the help of a Calhoun landscaping professional, the stonework can be completely customized to create other features like fountains and waterfalls.
Top Options In Natural Stone For Patios
Flagstone, slate, and stone pavers or tiles are available to build the floor and other areas of your patio. This stonework really adds class to the landscape. If you have a tighter budget, go with the natural stone tiles. They come in granite, marble, slate, limestone, and travertine. When planning the patio design, be sure to allow enough space for everyone who would gather there. The natural stonework can extend to create a large patio for everyone to enjoy at the same time. Think of how nice it would be to have a beautiful patio for those get-togethers and parties.
The Best Stonework For Waterfalls
Every patio needs a water feature of some type. Whether it's large or small, a beautiful waterfall would make a huge statement about your home. When building a water feature for the patio or anywhere else, the best stone to choose for the face of a waterfall is something that looks shimmery when wet. Sparkly stones include granite, marble, and quartz. The shimmer effect of the water falling over the surface of natural stone looks amazing, especially if there are slabs of granite with rough-cut edges.