How Water Features Can Benefit Your Landscape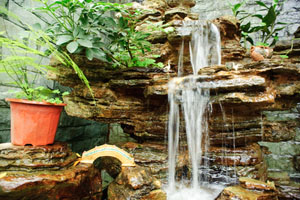 Water features are a great way to create a more distinctive appearance for your Calhoun home's landscape, and when you work with Landscape Creations, Inc. on adding water features, you're guaranteed to have the best water features possible. Water features add sound, texture, and movement to a landscape, and they'll make the surroundings of your home feel more natural and more unique.
Landscaping water features are much more than just attractive features, however. These landscaping features can be both functional and attractive, and they are some unexpected benefits that water features will offer to your landscape.
You'll Add the Sounds of Nature to Your Yard and Landscape
You work long hours, and finding time to relax away from the hustle-and-bustle of your life, but the sound of a waterfall or a lake in your Calhoun home's yard can bring that feeling of nature to you. With some cleverly design landscaping features made just for your property, the soothing sounds of nature won't ever be further away than your back door.
Natural Wildlife will be More Attracted to Your New Ecosystem
As soon as your water feature is installed, you'll notice an increase in the wildlife on your Calhoun area property. There will be more birds, dragonflies, and more! Instead of just a barren span of land, your yard will become a haven for wildlife, who can all provide their own benefits to your home.
Because all living creatures need water to survive, your new features will be helping to support life.
They Don't Require Very Much Maintenance
Unlike swimming pools, which require vigilant maintenance, water features can provide you with texture, sounds, and interesting aesthetics without needing much maintenance at all.
Wall fountains, waterfalls, and other pond-less water features are great additions to your landscape if you don't want to deal with maintenance. The circulation of the water keeps it from growing bacteria. Pond-less water features are great choices if you have children as well, as they create any safety risks.
They'll Make Your Landscape One-of-a-Kind
When you hire our professionals to design a water feature for your Calhoun home, you'll be making your home and your landscape truly unique. Everything about your water feature will be designed specifically for your landscape. We can also add hardscaping and stonework features to your water features to create a more beautiful and distinctive appearance.
They Can Fit in Any Space
Just because you have a smaller yard or landscape doesn't mean you don't have space for a great water feature. Our Calhoun landscaping company can design pond-less water features that will be an excellent addition to any space. Turn an ill-used part of your landscape into a beautiful focal point!